I'm going out on a limb to say the most used phrase worldwide for the last two years has been, "Because of COVID." I really don't want to start off with it, but in this case, it's true. So, here we go…
Because of COVID, there was mass temporary to a somewhat permanent closure of churches performing in-person services around the world. I never heard one person say, "Well, I guess that's it. I suppose we won't have church for a while, if ever again." No, instead, there was a considerable surge in livestreamed church services online.
Working in the church presentation software field, I helped many churches get their livestreams set up. A lot of them had never even tried doing it before. Most didn't have the right equipment for it, and some were previously livestreaming but needed to enhance or improve it 'because of COVID".
EasyWorship has been an excellent solution for many churches. It can send its output as an NDI feed and capture external camera feeds to send to many online streaming software solutions. This allows various options for displaying your song lyrics, scriptures, and presentations through livestream providers such as Facebook or YouTube.
But now that most churches are back to meeting in-person, many of them that weren't streaming previously still want to livestream along with their in-person services. Previously, EasyWorship could fit into this scenario, even though implementing it had been somewhat of a workaround. But, with the newly released EasyWorship 7.3, that has all changed.
What does this mean for current EasyWorship users?
It means that with the latest version of EasyWorship 7.3 with the newly released Alternate Output, churches now can have a livestream and in-house presentation simultaneously with different looks!
What is Alternate Output?
Alternate Output is another display output available in EasyWorship that will display the same content as the Main Output but with a different theme or look. For instance, you can display full-screen text with a motion background on your Main Output and lower-thirds text with a camera feed background on the Alternate Output. Suppose you're using Main and Alternate Outputs with the same computer to two different displays. In that case, you will need two video outputs from the graphics card on the computer, one for the main and one for the alternate. However, NDI (Network Device Interface) is also supported, and you can send either or both out with NDI. That will send the video signal over your network to any NDI-enabled device that can access it. With this, you will not need a physical video port or cable. In all, EasyWorship supports a Main Output, Alternate Output, and a Foldback (stage monitor) output. Any of these outputs can be sent to a physical display or through NDI.
Why would I want to use Alternate Output?
So far, the primary uses we've seen are for livestreaming. As mentioned earlier, you can have the full-screen text with a motion background on your Main Output and lower-thirds text with a camera feed background on the Alternate Output. But there are many other uses as well. You can use it in an overflow room or youth room as a simulcast or even as eye candy in the sanctuary for side or center screens.
In the following image, you can see I have the main output on the left for our in-house display and the image on the right is going to the livestream with a live camera feed background with the text on the lower-third of the slide.

How do I enable Alternate Output?
You'll need to have an active EasyWorship subscription with 7.3 or be running the EasyWorship demo to enable Alternate Output. Open EasyWorship and go to Edit > Options and click on Alternate Output. Check the box to Enable support for Alternate Output. Under the Output monitor setting, choose where you want the output to go. You can select another physical display, a custom position, or an NDI feed.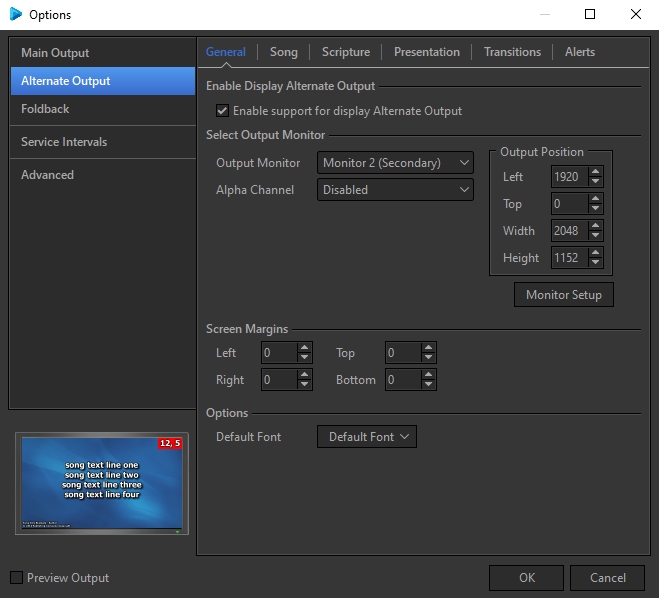 How do I set the Alternate Output theme?
Setting the default theme for the Alternate Output is simple. In EasyWorship, go to the Themes tab, right-click on the theme you want to use, and select Set as Default Alt Theme. You can do this for Song, Scripture, and Presentation themes. Create your own lower-third text theme and set it as the Alternate Output Theme, or just use a different background if you want. It's up to you!
What should I expect to see on the Alternate Output when displaying a song, scripture, or presentation?
When you use Main and Alternate Outputs, both will display the main content text element and background from the default theme of each output. So, if you go live to a song, the song lyrics will display on both, but each will display with the background set in their respective default theme.
If you add any foreground elements onto a slide in the editor, they'll display on the Main Output only and not on the Alternate Output. The only way to get a foreground element to display on the Alternate Output is for it to be part of the Alternate Output theme. If you have an extra text box on the slide and want it to show on the Alternate Output, you can add it to the Alternate Output default theme.
Going live directly with videos and images will always display on both Main and Alternate Outputs. Because of that, if you add a media slide to a presentation, it will also show on both outputs. To add a media slide to a presentation, open the editor, click on the Media button on the toolbar, and drag and drop the video or image you want to use to the left under the Words or Slides tab to create its own slide. When doing this, make sure you don't drop it on top of another slide, otherwise it will act as the new background for that slide and will only display on the Main Output. Adding it as its own slide in the presentation will ensure it will show on both outputs.
When editing presentations, the main thing to remember is that you're editing for the Main Output, not the Alternate Output. All changes made in the editor (aside from adding a media slide to the presentation as noted in the previous paragraph) will only be seen on the Main Output. If you want to edit the Alternate Output, you must edit the default Alternate Output theme.
The only other exception to this is if you set a background for an individual slide in the editor with its content usage set to Foreground and don't apply it to the master theme. These individual slide backgrounds would display on both Main and Alternate Outputs, but they won't play across slides since they're set to Foreground. If they're motions/videos, you will have player controls on the live output after you Go Live, but they'll restart with each slide change.
What happens when the Logo, Black, or Clear buttons are pressed?
Currently, pressing the Logo, Black, or Clear button will perform that action on both the Main and Alternate Outputs. There is a simple workaround if you use the Logo or Black buttons but don't want those to be displayed on the Alternate Output. Create a presentation with your logo set as a foreground element on a slide. Save this presentation with the name Logo. Add it to your schedule and when you want to show your logo on the Main Output only, go live with that presentation instead of pressing the Logo button. Do the same thing for Black but create a presentation with a black image as a foreground element on the slide and save it with the name Black. Add it to your schedule and go live to it when you want to only blackout the Main Output instead of pressing the Black button.
For any church that has in-person services while also livestreaming online, EasyWorship with Alternate Output is the perfect tool to use to get the look you want for your in-house projection and for all your online viewers.