This is the start of a new series where we will be breaking down some incredible lighting setups from different worship groups and explaining how you can implement them in your church at minimal cost.
Overview:
Our first breakdown is of the setup in the music video for "Crashing In" by Cory Asbury.
When it comes to outdoor lighting, a common rule of thumb is that the best method utilizes the most simple setup.
Now, to some people adding lights to an outdoor event seems pointless, but having that extra intentional push of warm color can really set you apart from the average setup.


Setup:
What you see in this music video is soft and elegant lighting, they are using only two different types of stage lighting, Par Cans and Light Bars.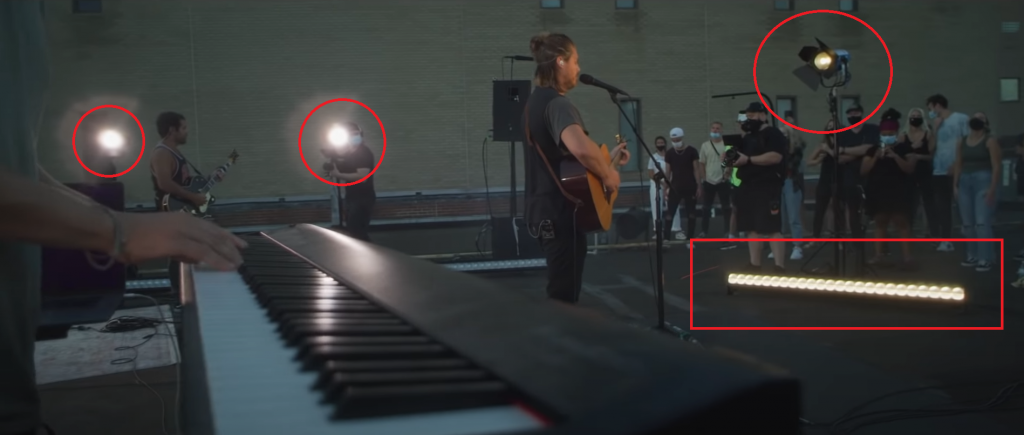 The first lighting element you will see is a traditional Par Can light setup with 4-way barndoors added to the fixture, and you will also see Linear Wash fixtures on the ground for up lighting effects.

To achieve this effect you can use simple Par Can lights (the 4-way Barndoors aren't necessary but will help with not washing out the whole stage or area you are trying to affect).
Pro tip: remember to always set your Par Cans just slightly above eye level and just offset enough to avoid blinding the performers, but don't be afraid to point them right at your subject.

For the Light Bars that are giving some gentle up-lighting, you can use a simple Light Bar that has the Warm White and/or Amber color option. This is also known as RGBA for red, green, blue, and amber.

This setup has sixteen Par Can Lights and eight Light Bars placed in a circle around the performers: the Par Cans are on six-foot stands and are placed ten to twelve feet apart.

The Light Bars are evenly placed spreading around the same circle and angled upward towards the torso of the body. To get the perfect color mixture from these fixtures, you will want to run your Par Can Lights as normal and set the Light Bars to be more amber to give off that warmer color we mentioned earlier.

This will give you a clean color and the perfect look for any daytime or nighttime event.
As far as setting these fixtures up to a Lighting Console or Controller, you can just simply plug these in and leave them on. However, if you have the option to use a console or controller, you can adjust the level of brightness for the fixtures, which will help in toning the lights down to the optimal levels you may need given your time of day outside.

The key to this setup is finding the perfect balance of sunlight and pushing out some extra warm light on the performers.