While looking back on the incredible time we had at Experience Conference 2022 in Orlando, we wanted to share some of our favorite moments and memories that we made.
Our Booth/The People
One of the best parts of Experience 2022 for me was getting to meet and interact with a ton of new people, and some of our customers and partners that I hadn't seen in over a year. I had the chance to pray with a man who was soon to have a lung transplant and his wife, got to celebrate the birth of one of our media partner's new daughter, and spent the whole week speculating with everyone about who the star guest performer was going to be on Thursday night (I thought for just a minute it was gonna be Kanye).
Show Control
Probably the biggest highlight for our company (and Dan) is helping run the production in the main room. For those of you unaware, we are partnered with Experience Conference and run the lyrics and backgrounds during worship, as well as the speaker notes. I can't begin to tell you the amount of effort and planning that goes into making a successful production, but I can tell you that our days at Experience are somewhere between 18-20 hours long with multiple rehearsals after everyone else has gone to bed! Every year the production value increases across the conference, which means we have to step up our game as well, and Dan (our resident Training Specialist and lyrical aficionado) goes above and beyond every year with researching songs, rehearsing with the performers, and working closely with the rest of the production team to create a seamless, immersive worship atmosphere for the attendees. GO DAN!
Running the lyrics and speaker notes for Experience Conference this year was again just an amazing, God-filled, enjoyable week.
We spent the day on Monday setting up the computers. It only took us a couple of hours to have everything on our end ready to go, but we used the time we had to make sure everything was working correctly. Working with AE Global and Thor A/V again was such a great experience as well. Everyone was truly knowledgeable about what was going on, so we didn't really have any issues.
The hardware we took was a custom-built computer that we've used the past 2 years for this conference. It has a water-cooled i7 processor, 16 Gb RAM, 1 Tb NVME hard drive, and this year we installed 2 Nvidia RTX 2070 Super Graphics cards and connected them with an Nvidia bridge. We thought we might need 5 outputs for everything we were sending to, so we wanted to be safe and have 8 video outputs.
We ended up only needing 4 of the outputs, two for the main alpha channel output, one for the fill and one for the key that would end up sending lyrics to the side LED walls, one for the alternate output that would end up sending lyrics to the small LED strip at the top of the stage, and one for the foldback TVs at the front of the stage.
We also decided to use a Razer laptop for the pre-service video announcement. We could have used the desktop, but because of certain circumstances, it was easiest for us to run that announcement video through the laptop.
Output #1 – Computer Monitor
For the computer monitor, we used an HDMI –> HDMI cable from the First RTX 2070 Super to the 23-inch Lenovo Monitor on the desk.
Output #2 and #3 – Main Output
Fill – for the fill, we used a DP –> HDMI adapter to an HDMI –> HDMI cable in to a Blackmagic Design Mini Converter/UpDownCross HD and then out SDI to a Riedel MediorNet.
Key – for the fill, we used a DP –> HDMI adapter to an HDMI –> HDMI cable in to a Blackmagic Design Mini Converter/UpDownCross HD and then out SDI to a Riedel MediorNet.
Both UpDownCross Converters were also connected to a Blackmagic Design Sync Generator to make sure the key and fill stay in sync when changing slides.
Output #4 – Alternate Output
We were going to use a key and fill alpha channel for this as well, but they just wanted a single output of the lyrics sent to Resolume for the small lyric strip above the stage.
This used a DP –> HDMI adapter to an HDMI –> HDMI cable and went into a Blackmagic Design Mini Converter/UpDownCross HD and then out SDI to a Decklink Duo in a Sonnet eGPU box connected to a Macbook Pro running Resolume.
Output #5 – Foldback
This used a DP –> HDMI adapter to an HDMI –> HDMI cable and went into a Decimator MD-HX HDMI –> SDI Cross Converter. We didn't need to sync it with anything, so it went straight from the Decimator out SDI to the MediorNet.
Output #6 – Razer Laptop
Since we were just running a pre-service video, we sent this out HDMI to a Blackmagic Design Mini Converter/UpDownCross HD and then out SDI to the MediorNet.
There was a single fiber line that was run from the A/V booth to the backstage from one MediorNet to another MediorNet that then connected to a Panasonic Kairos switcher which sent each output to where it needed to be.
Our main output from EasyWorship was lower thirds text for the side IMAG screens and the Alternate output was centered vertically and horizontally. Because of the LED strip above the stage, we went with just one line of text per slide. This only became difficult to stay caught up on the faster songs, but still wasn't that hard to do. There's a level of focus and paying attention to the song to be sure you advance the slide quickly enough as to not get behind.
The audio for the desktop and the laptop both used a Radial USB Pro DI box that sent the audio to the main sound board.
Here is a diagram that shows all connections from the computers to the displays.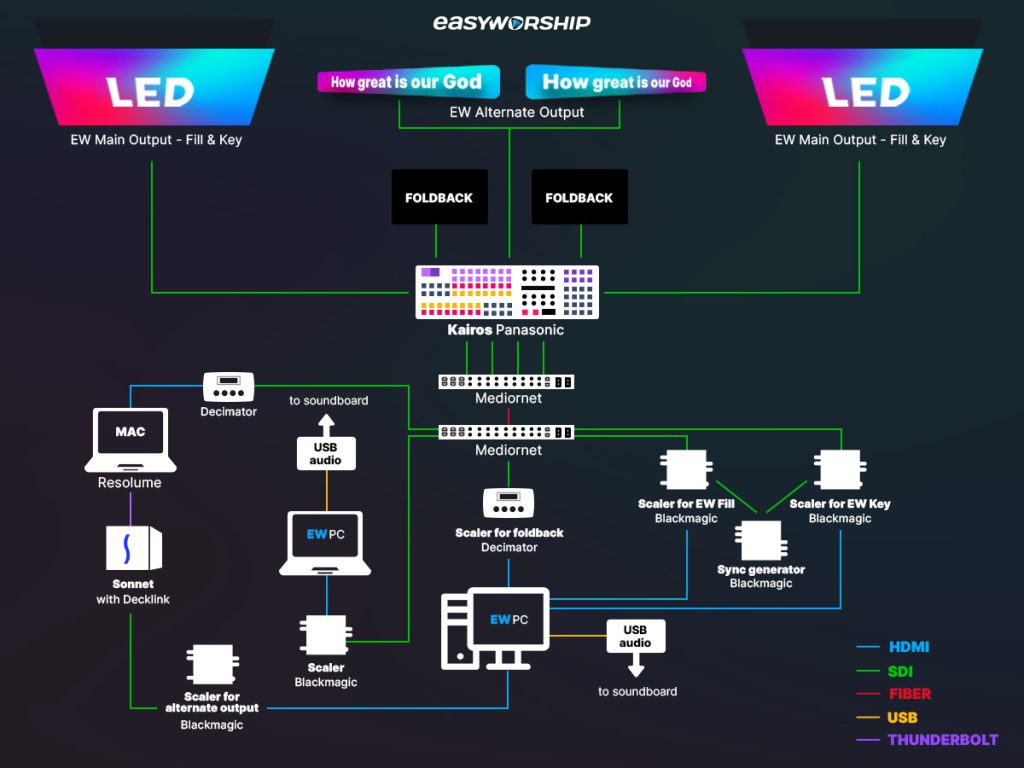 Worship in the Round
For the uninitiated, Worship in the Round is an earth-shattering worship experience that takes place on the second night of each Experience Conference. If your experience is anything like ours has been, you will be hard-pressed to find a more pure, emotional night of praising the Lord anywhere. With thousands of voices raised to his name, in perfect harmony and pitch, it feels like the truest, most raw, and beautiful expression of worship I have ever participated in. I cannot overstate that Worship in the Round by itself is worth the price of admission.
We had an amazing time at Experience Conference 2022, and can't wait for what the next year has to offer.