Recently EasyWorship had the privilege of running the video projection for the Experience Conference in Orlando, Florida. We had a blast working with everyone involved to deliver a fantastic worship conference, and we also learned a lot along the way.
This is our second year attending this conference. Our first year was marked by a hurricane that thankfully didn't show up in Orlando and COVID-19 marked this year. Each year, despite obstacles, the conference moved forward with the mission of giving worship/ministry leaders a place to be refreshed and restored. The organizers push through with grace and integrity, and we were grateful to be a part of this conference.
When we arrived at the conference center on Monday afternoon, we immediately went to the production booth to start setting things up. Unfortunately, we arrived during lunch; love us some mealtime nom-nom-nom. So we set-up while waiting for the audio, lighting, and camera technicians to return. Thankfully this gave us some time to speak with the guys from Thor AV, as they set up the LED walls for the conference. Thor AV, a US-based audiovisual company, that develops LED video walls and headset microphones.
There were 3 walls built for the center stage with a vertical lighting rack in between panel breaks. The left and right walls were 4.92' wide x 9.84' tall with a 13.12' wide x 9.84' tall center wall. The respective pixel ratios were 432 x 864, 1,152 x 864, and 432 x 864. These 3 LED walls were mapped to as one screen for our main stage projection computer, a Microsoft Surface Laptop 3 with an AMD Ryzen 7 processor, and an RX Vega 11 graphic processor. This laptop was connected to a Blackmagic Design ATEM Television Studio Pro HD via a USB-C to HDMI cable directly and ran media backgrounds behind the different speakers and musicians on-stage during the conference.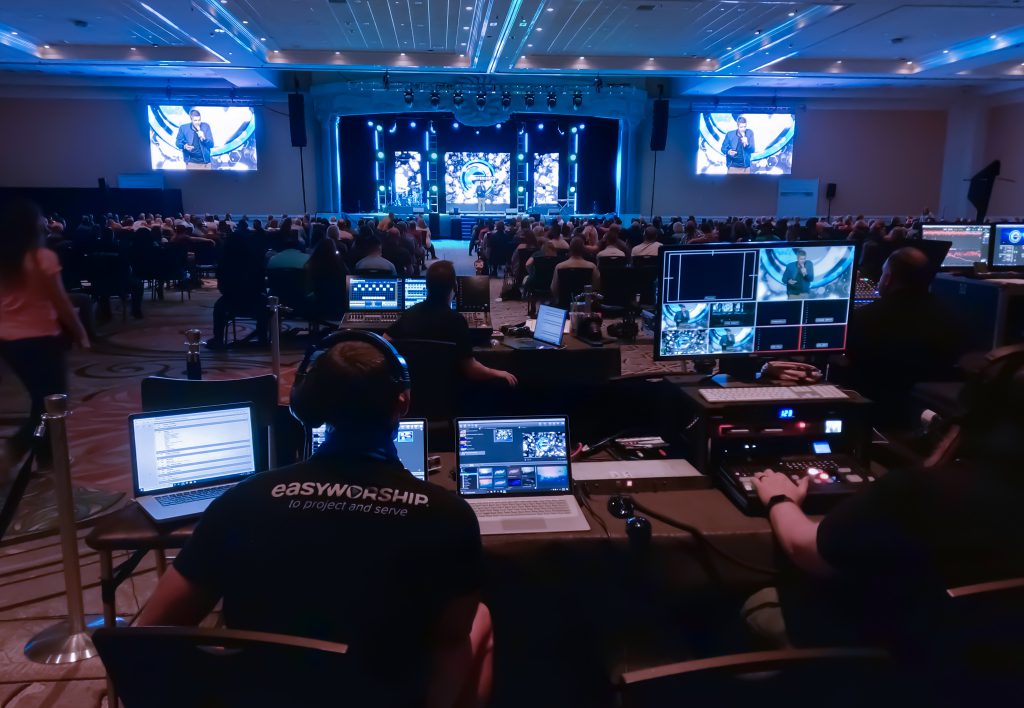 For the outer screens, they had two large LED walls mounted and hanging from the ceiling to the left and right of the center stage. Each of these was 16.4' wide by 9.84' tall with a pixel ratio of 1440 x 864. These two screens were set to mirror each other so that our main projection computer could send lower thirds, IMAG, and other session media to both simultaneously. For this projection, we set up a second Microsoft Surface Laptop 3, identical to the first, with a Microsoft Surface Dock 2. Two USB-C to HDMI outputs from the Dock connected to the ATEM to supply our key and fill outputs for the lower thirds. Since this configuration was used as a premultiplied overlay, we could achieve a true alpha-blended key. Note, we did experience Windows not recognizing multiple inputs of the same device type as connected monitors within the Surface Dock. To get around this, we used two different scalers as passthrough devices to the ATEM. One scaler was a Decimator MD-HX, and the other was a Blackmagic Mini UpDownCross Converter HD.
Additionally, we had a large flat screen mounted on the floor directly in the front of the stage to provide foldback and countdown clocks to our speakers and musicians. Foldback was a 3rd monitor out controlled by the Surface running the IMAG lower thirds. It was pretty cool to power all of this with a single laptop! Since this monitor was on such a long-distance run, we sent our output to a Decimator MD-HX to convert HDMI to SDI as SDI can distances up to 100 meters. Once the SDI cable was terminated at the screen, another Decimator MD-HX was used to convert the SDI back to HDMI for input into the screen.
Overall, the set-up looked like this;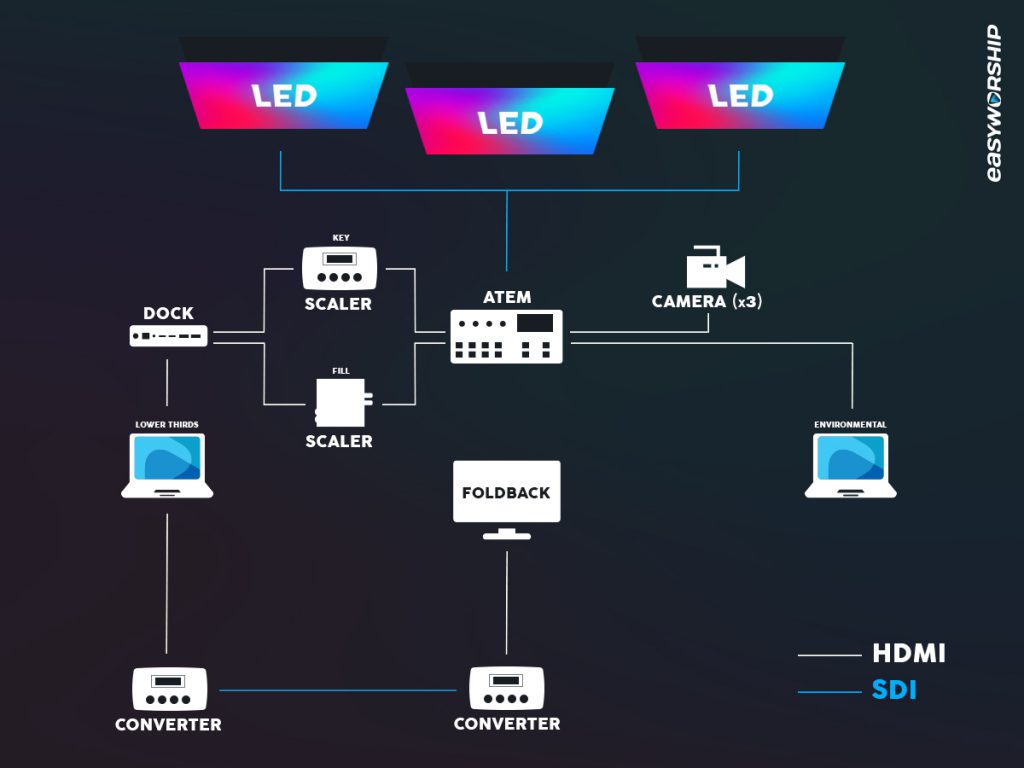 Once we got all our equipment set up, we were able to meet the rest of the production crew. We had the honor of working with Kyle Russelburg from E2i Designs (lighting and ATEM setup), Aaron Johnson from Rockit Resource Group (audio, production manager), and Jeremy Van Valkenburg from Worship Leader Probs.
Thank you to the staff of the Experience Conference for a great experience! We so appreciate your hard work and dedication to serving worship and ministry leaders.