Hello! My name is David Morell and I am the Director of Visual Ministries and Audio Visual at my church "Centro Cristiano de Adoración" in Providence, Rhode Island, part of the Christian and Missionary Alliance.
I was given the opportunity to share my church's setup for the blog and I gladly accepted.
I want to preface this by saying my church is NOT doing live streams of our services at this moment or have at any point. A lot of the blog entries were mentioning this. However, live streaming is something in the cards for us sometime in the future. What I intend to share with you all is how we manage our content creation and delivery.
EasyWorship Setup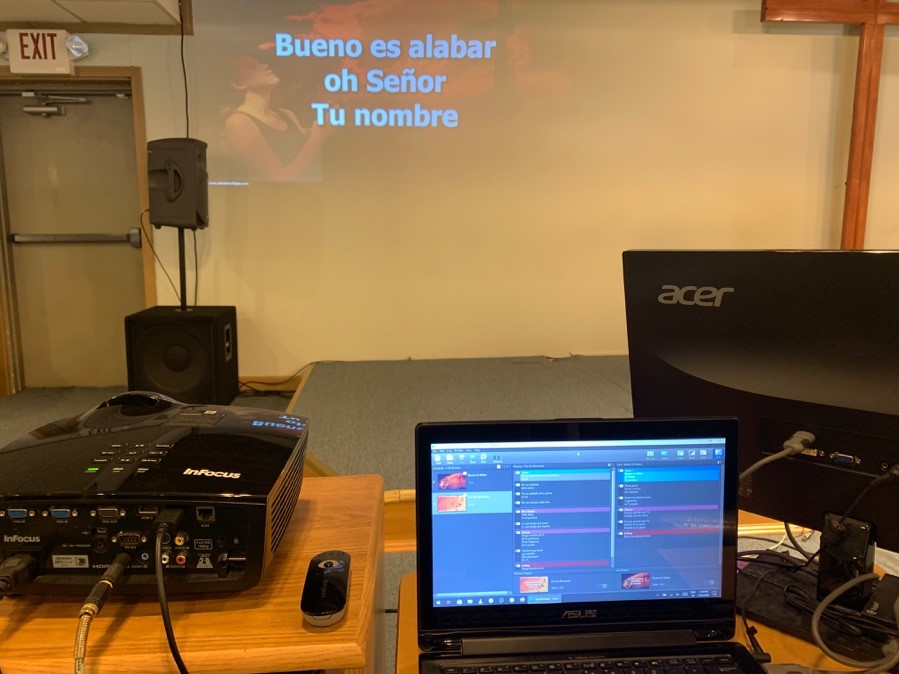 As shown in the photo above, we have a fairly simple setup.
An Asus laptop
Infocus projector
An HDMI cable connecting the laptop to a 4 port HDMI hub. (The HDMI hub splits the signal coming from the laptop into the ACER monitor and to the Infocus projector.)
We run an audio cable into the projector to get sound into our MIDAS M32 digital mixer.
Not shown in the photo is my personal iPad which I use to run the EasyWorship Remote app. I sometimes also run the Remote app on my personal phone as well.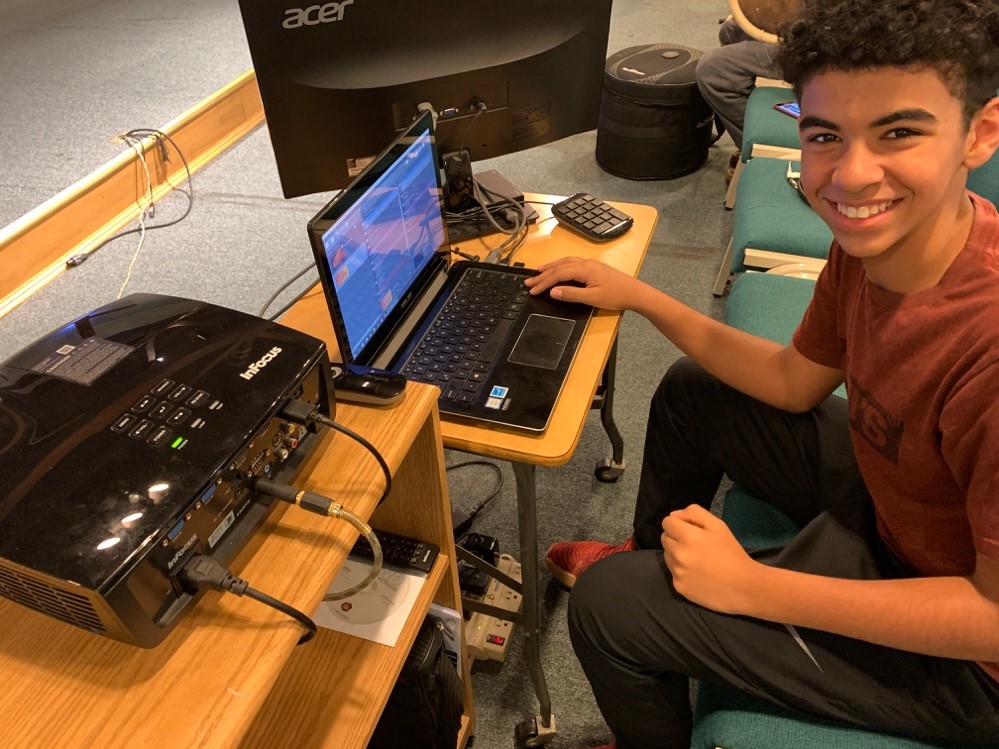 At this time, we have two people who man our Easyworship station. Myself, and when I am not present, Evan, who is shown in the photo above. I personally trained him on how to run EW. He can load and set up a schedule, add scripture passages, as well as edit our Announcements Presentation set. Training was actually fairly limited as he picked up on how to run the program from merely shadowing me on Sundays.
Anytime someone wants to learn how to run EW I tell them to merely shadow me. They pick up on how I run the program and then I tell them to give it a try. Before any new trainees start, they run a Friday service which is a more laid-back experience. Fewer songs, and not a lot of announcements. Once they have a few of those under their belt, they are given a shot on the big stage! A Sunday! Of course, I am sitting right there alongside to ensure nothing bad happens.
Video Setup
Next up is the video portion. Basically, sermon recording for distribution on our Facebook page and YouTube channel.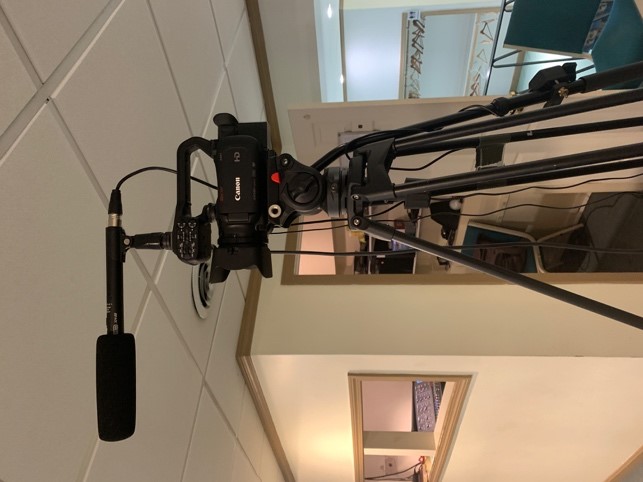 We use a Canon XA11 Camcorder to record our sermons on video. We run an XLR cable into the camera that feeds audio from the digital mixer to the camera directly. This ensures we get a crisp and clean audio source for the camera to use when recording the sermons.
Here below is how the sermon looks when getting edited.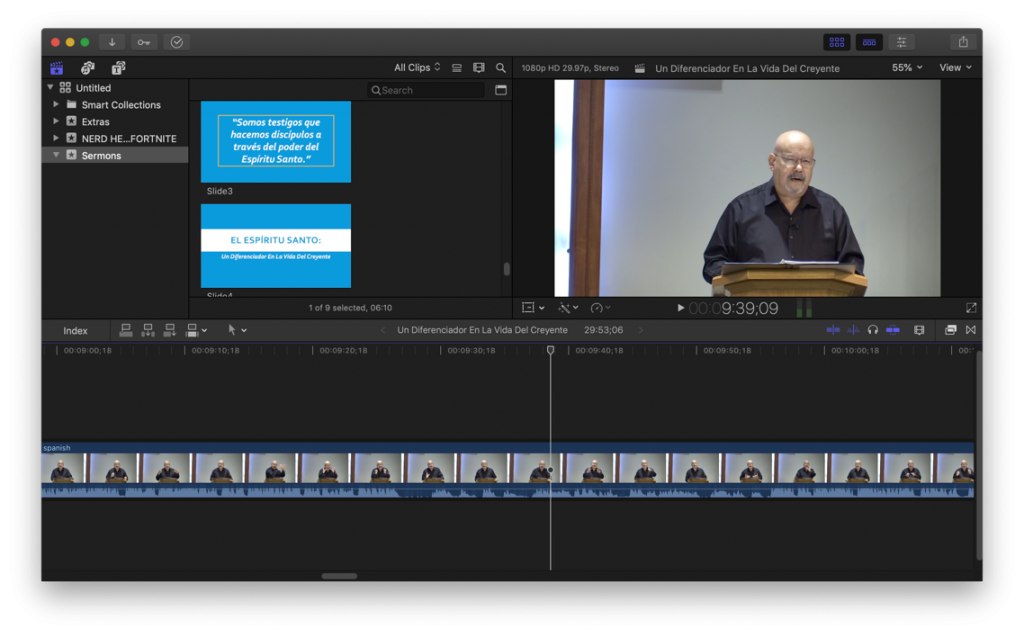 I use Final Cut Pro X to edit the sermons. We shoot the Spanish and English versions back to back at the moment. Once they are completed and exported for the web I use Creator Studio on Facebook to upload both video files. From within the upload process, you can schedule the post to go public at a certain time. I always schedule the FB post to go public at 6am each Sunday so that the people who follow the Facebook page, see it when they wake up. I do the same process for YouTube. I schedule the videos to go public at 6am. Any members of the congregation who are subscribed to the YouTube channel will see the videos in their subscriptions page at 6am Sunday morning.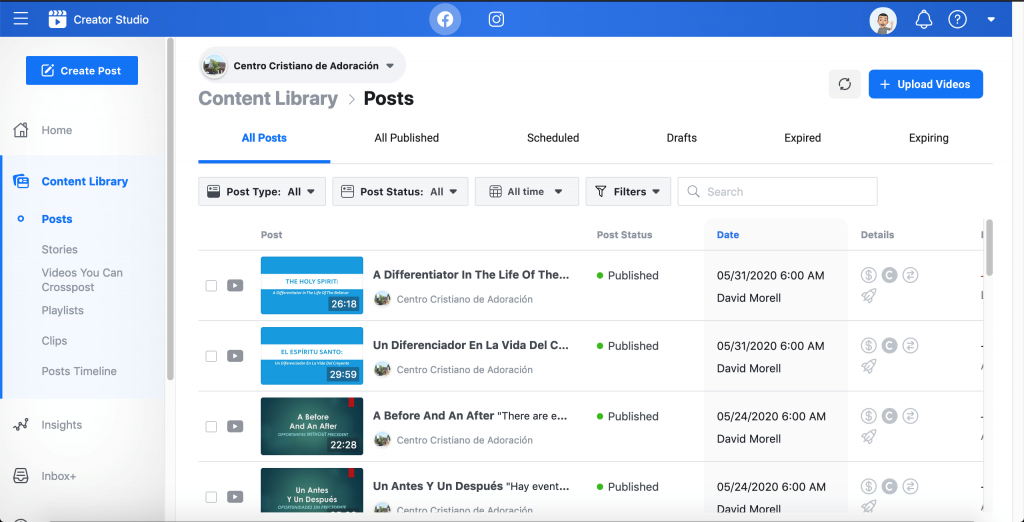 As shown in the photo above that is what Facebook Creator Studio looks like. Anyone who is unaware of it can visit it here: www.facebook.com/creatorstudio. I highly recommend it for any media team for churches.
Below is the YouTube Studio layout.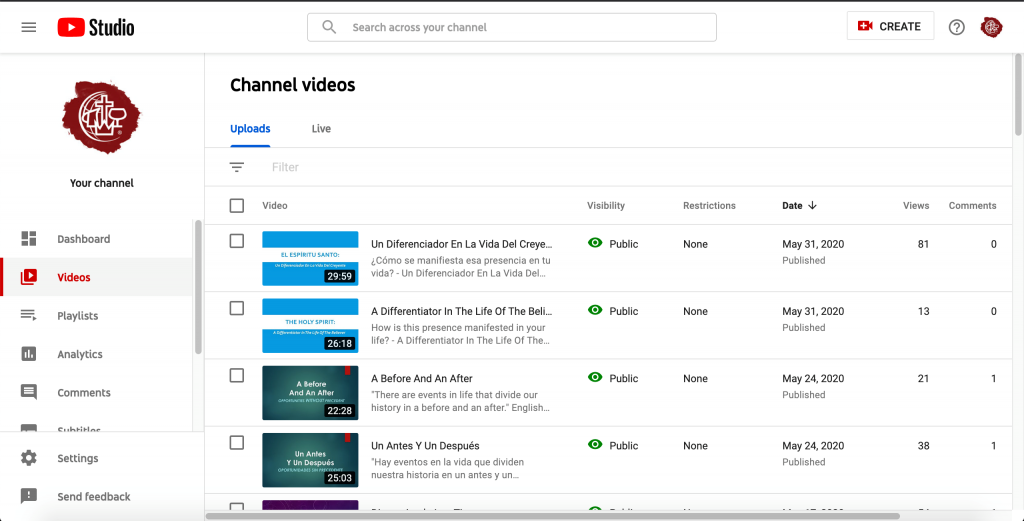 My intention for this blog is to show how my church is managing at the moment during the pandemic. Ironically, we have begun a process of recording worship songs in order to share them in our Sunday Zoom services.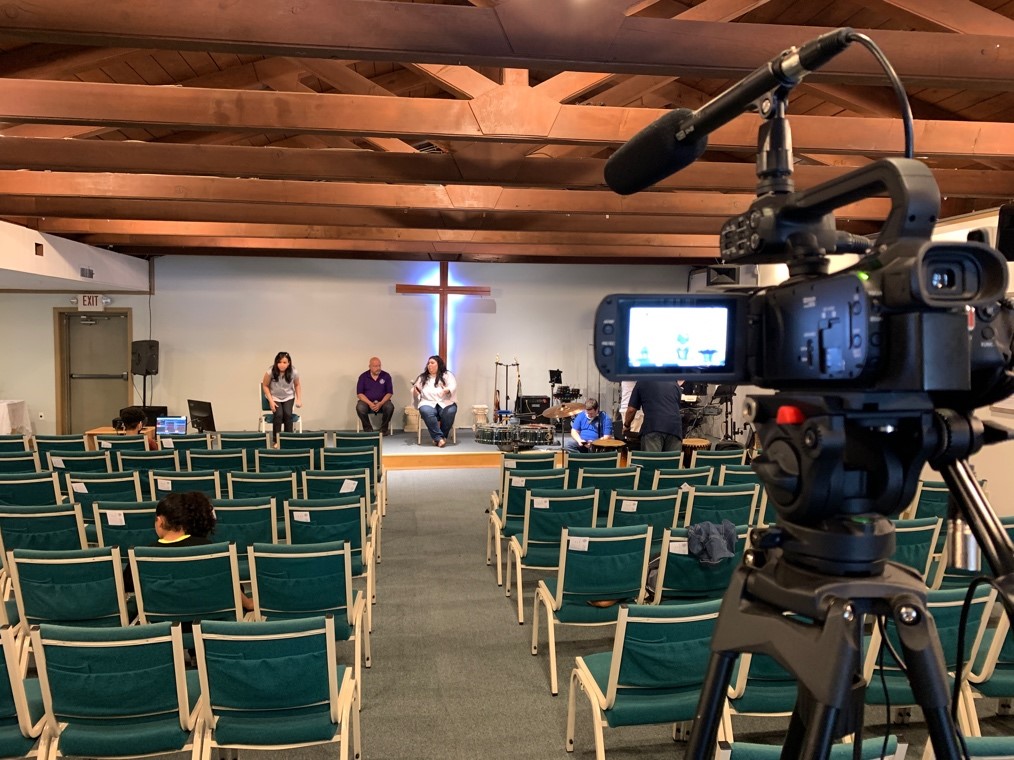 This was the first time we did something like this. We were previously having each singer on the team send a recording of their vocal to our Worship Director and he would splice everything together, alongside the parts the percussion and instrument players play.
While we record these "live" worship segments, we have EasyWorship running the songs they play so they can follow along with the monitor that faces the stage. As previously mentioned, Evan runs the EW schedule while I am on camera recording the worship.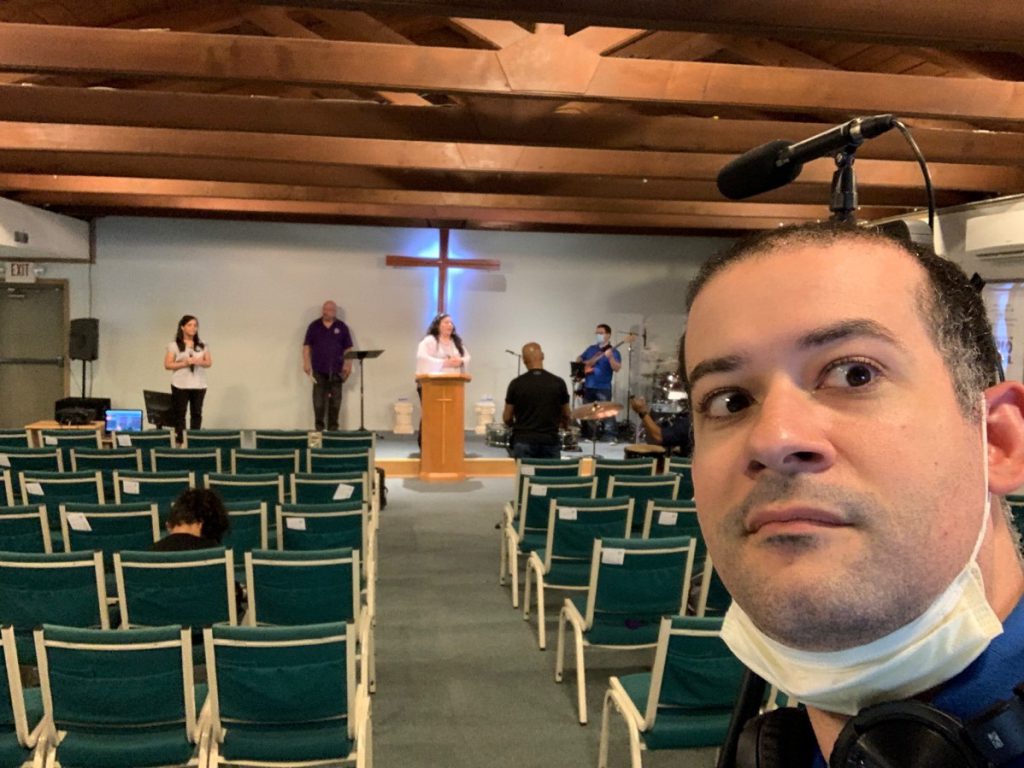 It was a very intriguing experience, to say the least, but our team tackled it and the result was well received after we shared the videos in the zoom service.
I will say that amidst all this time we as a church have had to experience new things and learn new methods of worship. Life is always changing and evolving and we as a church need to understand this.
I end this by sharing a phrase I learned from a fellow church media person.
"We create content not for ourselves, but for those THE CREATOR created."
We need to understand we do not do this for ourselves. We do what we do for the joy of our congregations. It's the same for me as a video person. I make content for the smiles and happiness on the faces of people who receive the content.
I hope any and those who read this can receive a blessing and help that can further advance the Kingdom. I wish you all many blessings. God bless and stay safe!
David Morell is the Director of Visual Ministries and Audio Visual at my church "Centro Cristiano de Adoración" in Providence, Rhode Island, part of the Christian and Missionary Alliance.