In the midst of dealing with the pandemic of the COVID-19 virus, and trying to keep it from spreading, live streaming your church service will probably be the best way to continue to reach your congregation but still be socially distanced from one another. After all, if it's best for people to not gather together in the church, why not bring the church to them. We wanted to give you a couple of different 'simple to do' options to get your message out to your congregation during this time of social distancing.
Your Phone
The most basic and free way to live stream is to open an app like Facebook, Instagram, or Youtube on your phone and use their Live feature.
With Facebook, the "Live" button is at the top of your feed.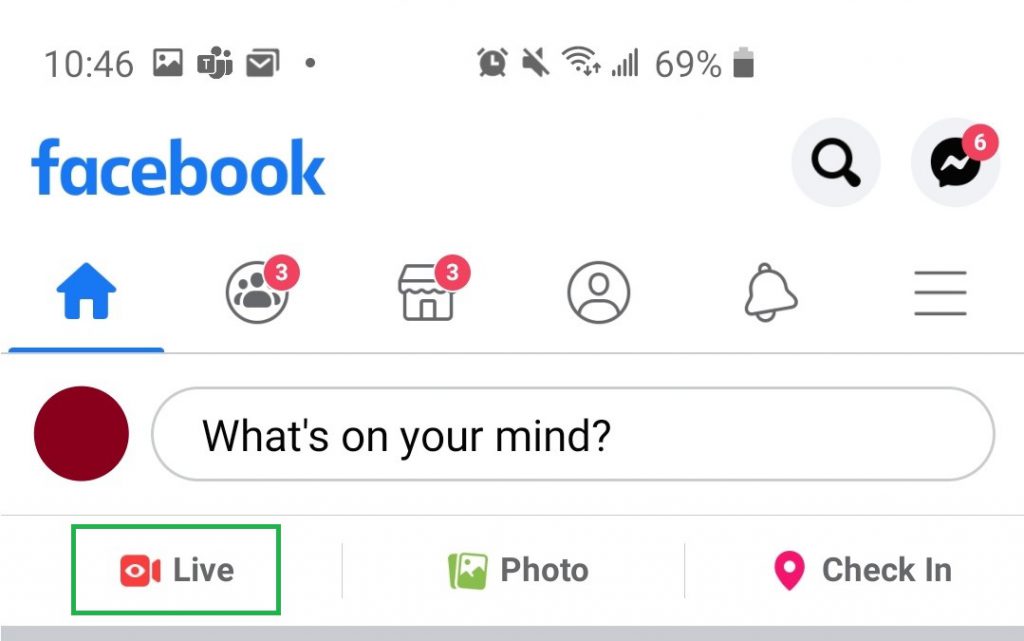 With YouTube, you can go live by tapping the camera icon at the top of the screen.

With Instagram, you can go live by tapping the camera icon in the top left corner and then swipe at the bottom to "Live".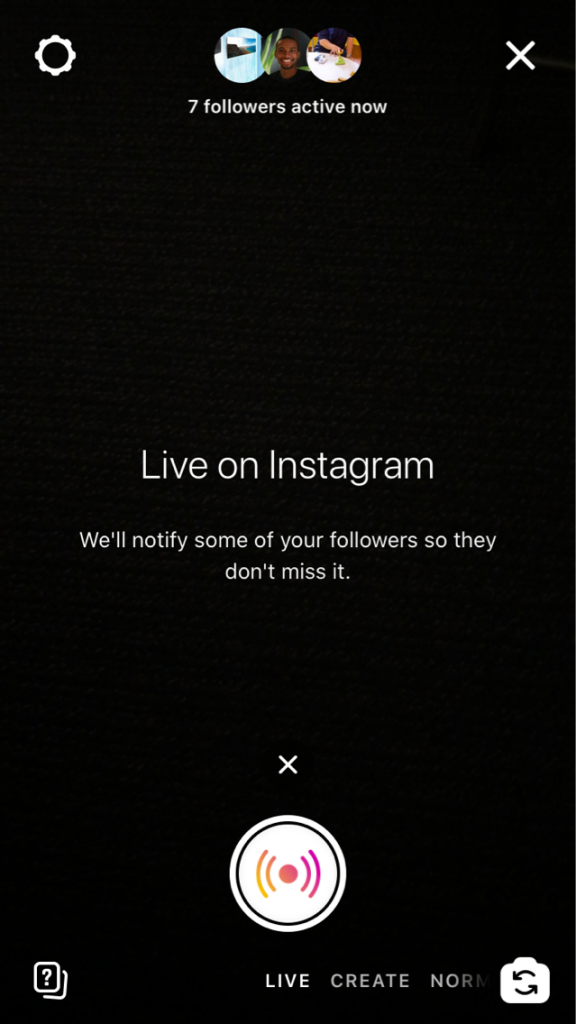 These options will be the easiest way to distribute your message to your congregation.
Beyond just live streaming yourself on your phone camera, the next level of streaming would allow you to switch back and forth between your live camera feed and scriptures or sermon slides or Powerpoint slides.
Before we move on to the next two solutions, if you need to know how to set-up a camera feed in EasyWorship, please go here.
Camera + EasyWorship
Once you've got your camera feed set up in EasyWorship, you can use the following instructions to capture your screen in OBS without using NDI. Note that this process will still require you to have a separate screen or monitor for projection.
If you need help setting up your camera feed, please follow our support article about setting up a feed in EasyWorship here.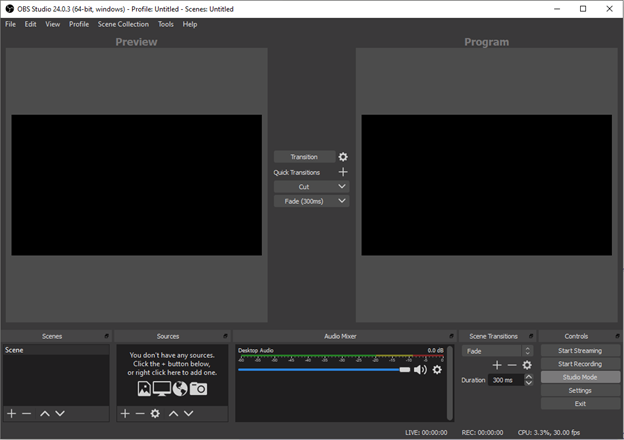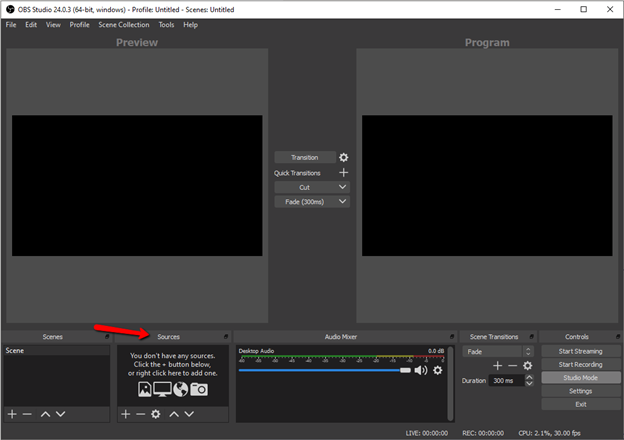 Click the + button under Source and choose Display Capture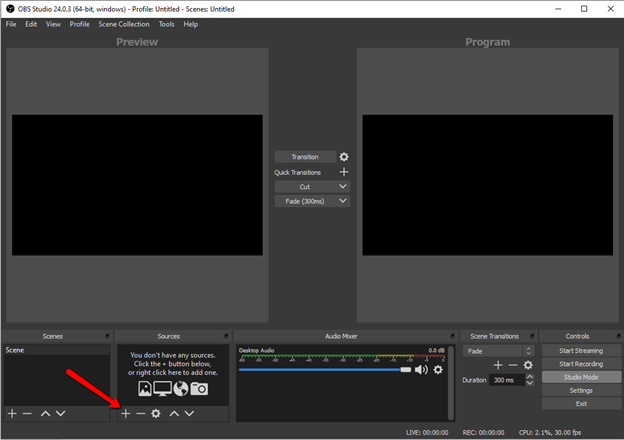 Click OK to create a new Source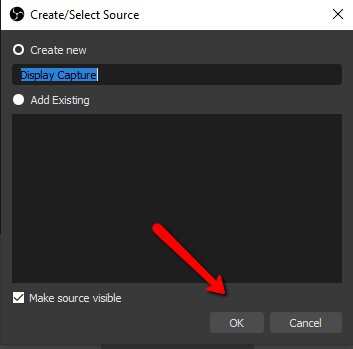 If needed, change the Display setting to find the correct display.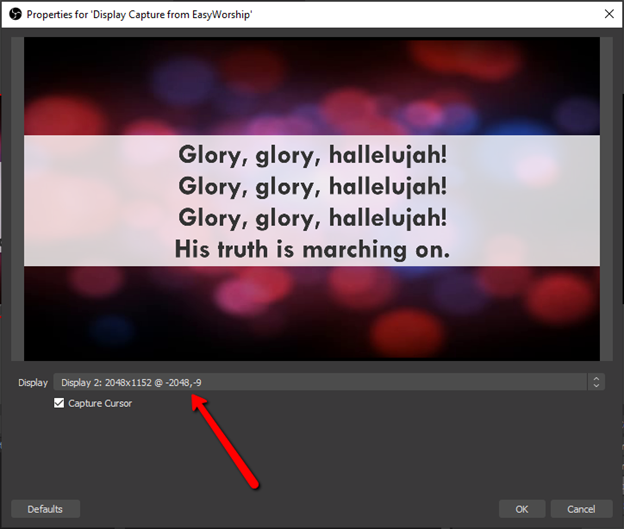 Click OK to save the settings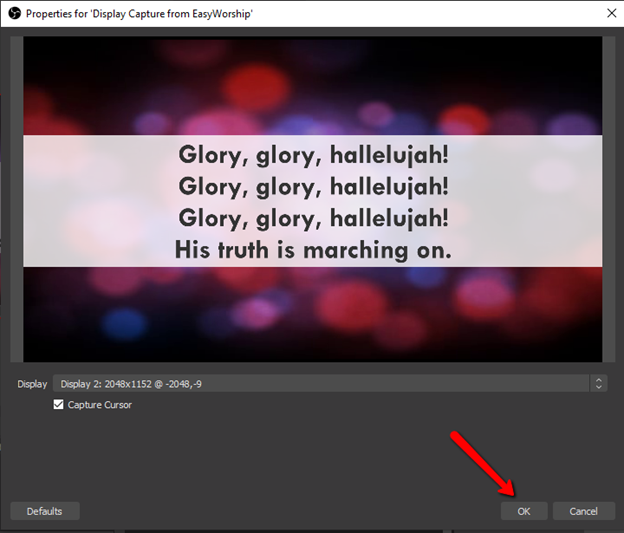 Now your OBS is ready to receive an EasyWorship signal without NDI.
Your Phone + NDI
Edit: After posting this blog, we have found out that NewTek has updated their iPhone and iPad app to the new NDI V4 Standard. EasyWorship currently uses the V3 SDK and will not connect with the new NewTek app. We are working on updating this and will have it available as soon as we can. Thanks for your patience.
Edit 3.18.20: If you do not have access to the older V3 SDK NewTek for iOS app, we have found that the NDICam for iOS is compatible with EasyWorship software. It cost $10 and can be found here.
If you're using EasyWorship 7 and want to do this, you can use NDI to send the signal from your iPhone over WiFi into EasyWorship on your computer. You can then send the EasyWorship output to a streaming service to stream it live with your text over live camera feed and any other media or slides you want to also show. You do need the NDI app from NewTek on your iPhone to be able to send the feed to EasyWorship. You can get it for the iPhone HERE for $19.99. (Unfortunately, NewTek has removed their Android app from Google Play and it is no longer available for purchase and is only available in the App Store for iPhone or iPad) Once you have the NDI app, you can send that camera feed out through the app and then capture it by creating a feed in the Media tab in EasyWorship.
To be able to stream the EasyWorship output live, you will need to send it out NDI to a streaming service. A free service is OBS. There is a patch you can install to be able to receive an NDI signal that can be downloaded HERE. You can also use other paid services like vMix or Sermon.net. vMix also has a free basic service that is limited.
To send the output from EasyWorship to an NDI signal that these services can receive, open EasyWorship and go to Edit, then Options. In the Live menu that opens, change the Output Monitor setting to NDI Stream. Now, in your streaming software, you should be able to see the NDI feed to input.
Once you're live with the streaming software, you can add your camera feed in EasyWorship as a background and show lower third text or scriptures and switch to presentation slides or other media.
Before you do any streaming for the first time ever, make sure you do a trial run so that if you run into any issues you can sort them out before the actual live stream takes place. Also, the option is there to record the stream to be able to post it on the web at a later date or time. You can also be proactive if you want and record your stream a day or two ahead of time and post the video at your normally scheduled service time.
Just remember that even though there are times where it may be best to not be together physically at one location for the safety of everyone, technology allows us to still meet together to hear the Gospel and be encouraged by our leaders.
If you have any questions, please feel free to email us at support@easyworship.com. Thank you!
If you would like to demo EasyWorship software, you can do so here.