When the world went crazy back in March, EVERYONE scrambled to figure out how to get their content online in a "socially distant" way with mixed results. My church has been recording our services and airing them on a local cable channel for many years, so the easy answer was to pre-record our services and post them online. We already had all the equipment to do that. So for about 9 weeks, that's what we did.
We recorded the song service and preaching in different segments and stitched it all together in post-production. This seemed to work well, but it took several extra hours to record all the takes (live services are much more forgiving than video), stitch it together in Adobe Premiere, and then caption the song lyrics over the video.
When we decided to begin meeting in person again, our leadership decided that we should live stream our services for those who couldn't make it in person. We also wanted to provide overflow seating in a separate building.
There are many different ways to skin this cat, but after some research, I decided that funneling everything through a computer would give us the most flexibility.
Live Stream Software
Having done some live streaming before for my day job in IT, I had used Open Broadcaster Software (OBS) Studio for live streaming events before, so this was a natural choice for me. OBS is a powerful tool for preparing, modifying, and mixing video sources for broadcast.
Our church already had a presence on YouTube, so this was the logical place for us to stream our services. At some point in the future, I would like to stream to Facebook Live as well.
Live Stream Hardware
I purchased a standard Windows PC with 8 GB of memory and a solid-state hard drive for this project. This computer doesn't have to be super powerful if you're dedicating it to this task.
To capture the audio and video, I chose to use the Elgato Cam Link 4K. These simple USB capture cards are well-reviewed and relatively inexpensive; however, they were difficult to source at first. I was fortunate to find some on Amazon a few weeks after I began searching.
I also purchased an Elgato Stream Deck control surface to make this setup as simple as possible for my volunteers. This array of virtual buttons allows us to send commands to OBS quickly and efficiently. In fact, we do not have a keyboard hooked up to this computer. We have buttons dedicated to launching OBS, switching scenes, starting the live stream, and shutting down or restarting the computer.
What about the lyrics?
I wanted to overlay the lyrics on top of the video for our online viewers. That's where EasyWorship comes in. We've been using EasyWorship for many years, so it only made sense to integrate it somehow into this stream.
I had purchased an additional Cam Link with the intention of bringing the front of house output from EasyWorship into OBS directly, but laying the full slide on top of the video wasn't the look I was going for. I knew that if I could get the foldback display into OBS, I could remove the solid black background using a color key filter (think green screen).
I didn't want to purchase another Cam Link or figure out how to duplicate the foldback display. After a little more research, I found that I could capture both of the EasyWorship screens and transport them over the network using a small application called vMix Desktop Capture for NDI.
Along with the NDI plugin for OBS, we can add any screen we want from EasyWorship as a layer in our stream. After cropping the clocks and the preview line from the foldback view and removing the background, the lyrics transparently float on top of our camera feed. We added a transparent gradient image to give the lyrics a little bit of separation, and we are satisfied with the results.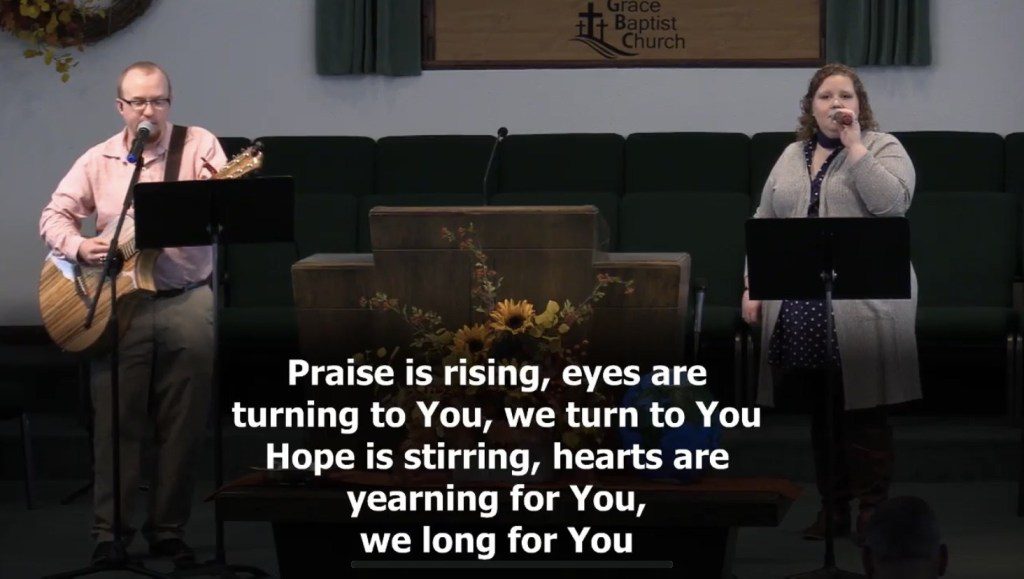 We quickly learned that there is a slight delay anytime you pipe video over the network, so the volunteer on EasyWorship has to be on top of the slide transitions for the lyrics to be on time for the stream. We also learned that using NDI to send videos being played in EasyWorship did not yield good results, so we continue to use the HDMI and Cam Link connection for getting the front of house view into the stream.
What else can we do with NDI?
The NDI plugin for OBS also allows us to send an NDI stream of our program view. This stream can be captured and displayed on any device capable of receiving an NDI stream. We used this as a means to live stream to another building for overflow seating. While we could have used the YouTube stream, we wanted something a little more real-time. NDI offers a free set of tools that include the NDI Studio Monitor, which runs on a laptop and projector in our overflow space.
A Picture is worth a thousand words
Sometimes diagrams make things easier to understand, so I worked up this graphic to show all the connections.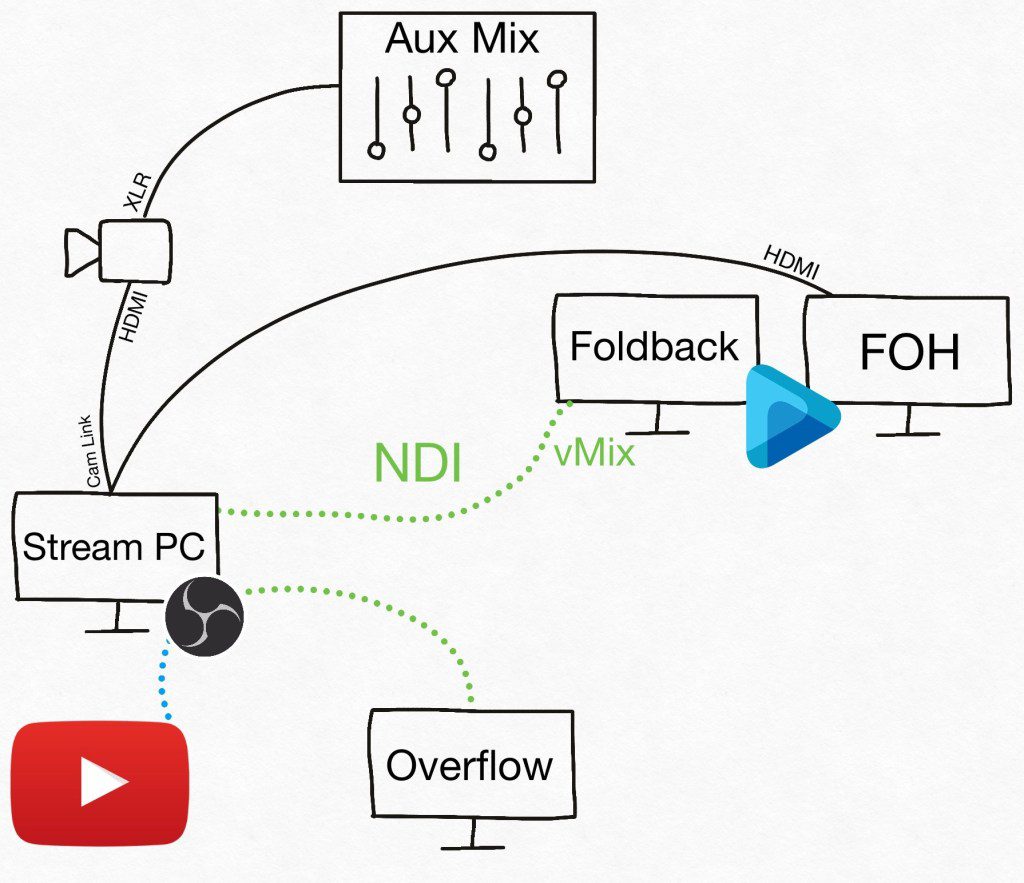 This basically covers everything we're doing for the live stream. If you have any questions, please feel free to email me at sean@carnahan.me.