My name is Noel Moore and I am a member of the leadership team at Belfast Citadel Salvation Army Church and Community Centre.
The reasons for the way we choose to continue to meet together are many and varied. To cut a long story short, we chose to use Zoom.us to continue meeting "as normal" on a Sunday morning. Although a free license is currently available for groups to conference-call for up to 40 minutes, we paid the very economical fee for a license. Initially, I experimented with just using Zoom but soon realised that for me, Easyworship was going to be essential.
The difference between "projecting" in a normal service and doing so using Zoom, or any other video-conferencing package is that you are not just sending words to a screen. In addition to managing your content and switching between your content and the various presenters who are going live, you are also letting members of the congregation into the service and managing those who accidentally mute or unmute themselves at the wrong time! This can all distract you, assuming that you are doing this alone as I am, from something else that needs to happen just now. EasyWorship can help keep you on track and if used as I use it, can provide you with time to carry on with some other tasks until the next item on the Order of Service arises.
Preparing EasyWorship
To give me that extra time, the first thing that I decided was to avoid having to advance to the next slide, verse of scripture or verse of a song. Everything in EasyWorship would be a video or a background. I set about compiling a preliminary schedule as normal, adding audio backings to the songs.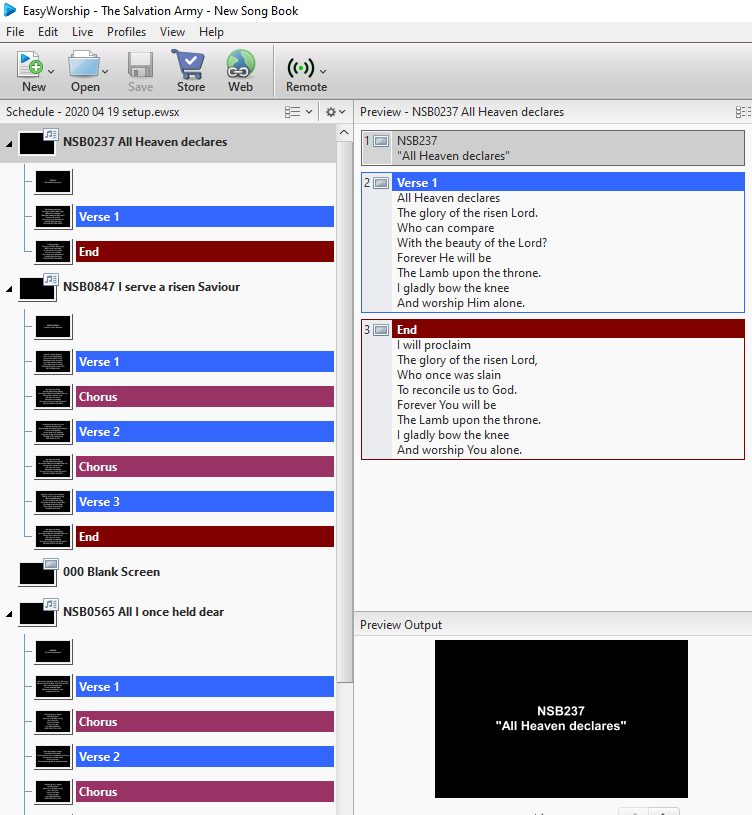 I then played through the songs as normal with EasyWorship live on my second monitor. This is where OBS proved invaluable in recording the second screen and saving this as a video. In the preliminary schedule, the songs' words with backings were replaced by these videos. This allowed a single click to project a whole song rather than clicking for each verse. Of course, this could be done using video editing software, but EasyWorship for me was much more efficient.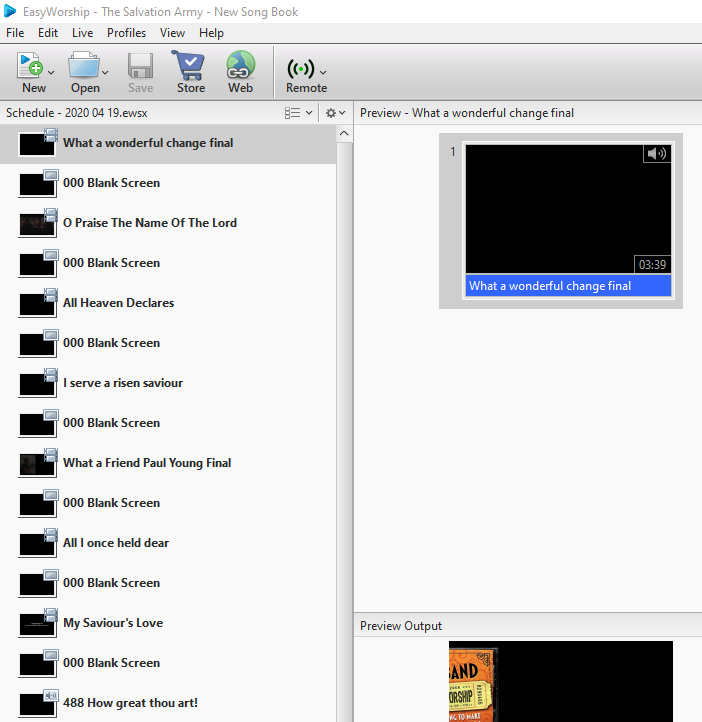 I also used a video editor, DaVinci Resolve, to create additional videos as required. For instance, on an occasion where we used a virtual choir, this was recorded in advance by each participant and I collated the videos. The 12 video and 12 audio tracks were input to DaVinci and the resulting video file was added to the EasyWorship schedule.
Now the entire service was on EasyWorship as a series of videos and images or black image files to be used as spacers. This new schedule would be used for worship on Sunday.
Here is my EasyWorship Preparation Workflow:
Receive Order of Service.
Source lyrics and backings and other musical items and recordings as required.
Load words of songs, backing tracks, and themes into EasyWorship as a preliminary schedule.
Use EasyWorship to play songs and record using screen capture (OBS) from the second screen. Edit these videos if necessary.
Produce other videos if required using Davinci Resolve.
Upload videos and graphics to EasyWorship.
Create a final EasyWorship schedule consisting of song videos, musical item videos, and bible reading videos as required.
Prepare to Zoom
In parallel with this, preparation for zooming was taking place in the background. The first week that we Zoomed our services, I contacted everyone in the congregation to see who was up for Zooming. With a bit of help, many of the older members of the congregation who had smartphones could manage to get Zoom working. Once it was established who would be taking part, I emailed everyone with technical requirements and "House rules". I added the relevant Zoom id and password. As a result of bad press that Zoom.us had received during the first couple of weeks of lock-down, the default entrance was via a waiting room. The bad press had been due to churches, synagogues, and others advertising their Zoom meeting ID and passwords on Facebook, resulting in zoom-bombing during their meetings. I made it clear that members looking for passwords once the service had started may be unable to join us, as might late-comers.
Here is my Zoom Preparation Workflow:
Download and clear old Zoom cloud recordings to clear space for new recordings.
Receive Order of Service.
Organise people to pray, read bible passages, and contribute musical items.
Prepare the invitation to the service. Include technical information about signing up for Zoom, testing Zoom, wifi connection, landscape or portrait, etc. Also add housekeeping guidance for conduct in services, advice about security, the use of the waiting room, and breakout rooms…
Advertise service by email and Facebook and request a response by email.
Collate responses and email out invitations containing meeting id and password.
Zooming a service using EasyWorship
On a Sunday morning, I start Zoom about 30 minutes before the service. At this time, everyone is held in a "Waiting Room". This allows me to get EasyWorship up and running and checking that everything is working using Zoom. It also gives members a bit of time to check that they can get logged on. I invite myself along as a member of the congregation, participating on my phone, and allow this other self into the service in advance. I use my phone as a monitor, muted of course throughout the service. At about 15 minutes before the service is due to begin, I let the congregation in. Zooming is worth doing just to see the joy on everyone's faces as they spot each other in their gallery view! I check with those responsible for readings, prayers, and preaching that they are ready. Five minutes later, I mute everyone and take the opportunity to greet them. I give feedback as to how they are looking in case they are poorly lit or they are the one person in portrait mode whilst everyone else is landscape. I finish this section by going over the House Rules, stressing that this is Church and that we are all worshippers, not spectators. I encourage everyone to participate in singing, praying, and so on.
About 5 minutes before worship is due to begin, I play the first item in the EasyWorship schedule – a pre-service worship song video. To do this, I set up EasyWorship to go live on screen 2. In Zoom, I mute everyone, including myself, and select "Share Screen with audio and optimize for video". The first week that I Zoomed, I was receiving messages such as "You have not selected audio" or "You are sharing the wrong screen". That was before I started using my phone as a monitor. Fortunately, our congregation is very gracious and patiently waited until I re-started the song properly.
Once the service begins, a series of cycles a bit like this takes place:
un-mute an individual to allow them to do their bit;
when finished, mute individual;
start sharing video screen 2 (with audio and optimize for video);
use EasyWorship to start the next item in the schedule – usually a worship song;
when it is finished, in EasyWorship move to a blank screen or some background;
stop sharing screen 2
Repeat
To assist with this, I annotate the order of service like this, with my actions highlighted: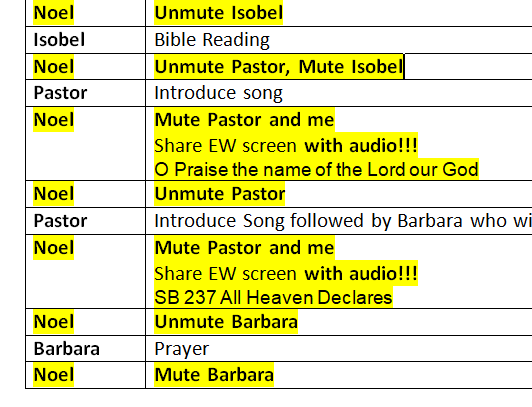 In time, I will not need to do this, but it is early days so I use this as a check-list to help everything to run smoothly. I leave EasyWorship running "Live" to screen 2 throughout the service since it is only shared through Zoom when required.
The only time that everyone is un-muted is to share 'The Grace' at the end. From an audio and video point of view, this is chaos, as the screens jump from one member to another in a seemingly random manner, but everyone enjoys this communal act. That signifies the end of the service-proper. I then give a short coffee break whilst I use EasyWorship to play a video. We then meet again for an informal time of testimony or sharing.
Zoom has the facility to make 3 recordings of each session with different views. These are used along with the original videos that appeared in the EasyWorship schedule to make a quality compilation video of the service in DaVinci Resolve. Gallery views of the congregation are included in this. The final product is uploaded to Facebook and written to DVD for circulation to those without internet access.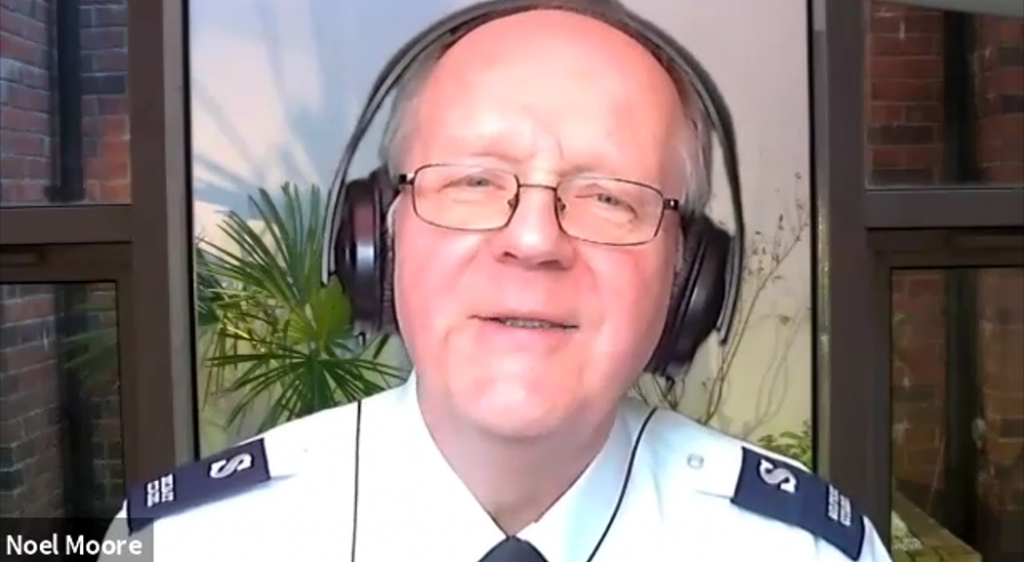 Noel Moore is a retired teacher of Physics and Design and Technology. He is a member of the leadership team at Belfast Citadel Salvation Army Church and Community Centre where he has worshipped all of his life. Currently, their Zoom services are posted on their Facebook page; https://www.facebook.com/BelfastCitadelSA/